Right Angled Cables for GPS's
Pictures of Garmin and Magellan brand systems,
but also works with TomTom

Call toll free with questions: 877-522-3779
Email: sales@usbfirewire.com
---
This article is about how we use your feedback to help develop our products. Some companies say they listen to our customers. Here is where we show you, rather than tell you.

Article 1
Some customers called us about what they could do with their Garmin GPS, because after breaking the USB connector, and then having it repaired, they decided that the standard connection needed something to help prevent that in the future. In response, we developed a USB Extension cable that works perfectly with almost every GPS out there, including Garmin, TomTom and Magellan.
Here we have two different models pictured. A Garmin C550, and a Magellan RoadMate 700.

| | |
| --- | --- |
| | |
| Click for larger image | Click for larger image |
For this application, we recommend two possible solutions -
Recommendation 1: Depending on how you mount the device, you'll want the angle facing in a different direction. I personally like to stick mine to the window. The cable is installed around the Windshield, there are a couple of ways to do this. The first, is to angle it "up" See pictures below.
Recommendation 2: The second way, is to angle it towards the back. It's also very convenient, and this way I actually liked a little bit better, because it didn't interfere with the volume button, which I like to change pretty frequently; especially if I'm on the phone. Sometimes I'll be on the phone and my wife thinks another woman is in the car. Definitely not a good thing! Here is another picture below.
NOTE: The angle below is the same angle as used with the Garmin GXM 30 Extension Cable, Part Number: 010-10617-02
Article 2
My friend has a Magellan RoadMate 700 GPS, and this cable seems to work for his model as well. So, here are some different USB Extension configurations that we were able to use with his GPS.

| | |
| --- | --- |
| | |
| Click for larger image | Click for larger image |
---
Links:
Link to GPSReview.net - They were tipped them off about our extensions and wrote about them!
Link to www.TomTomForums.com
We found a link on the web that shows one of our products in use in a TomTom GPS (It's a TomTom GO720).
Link to Garmin C550 GPS Blog - Someone helped solve the USB Power conundrum
Link
Customer Information:
We had the pleasure of an e-mail from a customer using a Garmin StreetPilot 2730. He needed to extend the cable that connects his GSM30 XM radio antenna to the GPS. He used our straight extension cable on his motorcycle, and it worked great! Link to the 6ft cable he used.
Thanks to Curt from Pewaukee, WI
Another customer of ours has a Garmin Nuvi 360 with traffic receiver. He had the frustration of the traffic receiver pushing up against the window when he plugged it in. He decided to try one of our extensions that angled towards the dash to solve the problem. Sure enough, it took care of it.
Here is a link to the cable that he used. We call it a "right angle" extension.
Thanks to Mike from Olathe, KS
Picture of Mike's setup before the cable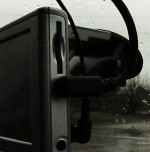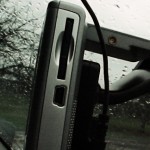 ---
Contact Info:
www.USBFireWire.com
3737 N. Hydraulic
Wichita, KS 67219
PHONE: 877-522-3779
Sales: sales@usbfirewire.com
Tech: tech@usbfirewire.com
Garmin
TomTom/Magellan
HP
Colorado 300
Colorado

400c
Colorado 400i
Colorado 400t

Edge 205
Edge 305CAD
Edge 305H5+Speed/Cadance
Edge 305HR
Edge 605
Edge 705

eTrex Legend C
eTrex Cx
eTrex HCx
eTrex Venture Cx
eTrex HC
eTrex Vista C Cx HCx
eTrex Summit HC

Forerunner 205
Forerunner 301
Forerunner 305

Nuvi 200
Nuvi 200W
Nuvi 205
Nuvi 205W
Nuvi 215T
Nuvi 250
Nuvi 250W
Nuvi 255
Nuvi 255W
Nuvi 260
Nuvi 260W
Nuvi 265T
Nuvi 265WT
Nuvi 270
Nuvi 275T
Nuvi 300
Nuvi 310
Nuvi 350
Nuvi 360
Nuvi 370
Nuvi 500

StreetPilot c310
StreetPilot c320
StreetPilot c330
StreetPilot c340
StreetPilot c550
StreetPilot i2
StreetPilot i3
StreetPilot i5
StreetPilot 2730

Magellan Maestro 3200
Magellan Maestro 3210
Magellan Maestro 3220
Magellan Maestro 3225
Magellan Maestro 4200
Magellan Maestro 4210
Magellan Maestro 4220
Magellan Maestro 4250
Magellan Maestro 4350
Magellan Maestro 4370

Magellan RoadMate 1200
Magellan RoadMate 1212
Magellan RoadMate 1400
Magellan RoadMate 1412
Magellan RoadMate 1430

Mio Moov 580
Mio Moov 560
Mio Moov 510
Mio Moov 500
Mio Moov 380
Mio Moov 370
Mio Moov 360
Mio Moov 330
Mio Moov 310
Mio Moov 210
Mio Moov 200

Tom Tom GO 930
Tom Tom GO 930 T
Tom Tom GO 920
Tom Tom GO 920 T
Tom Tom GO 910
Tom Tom GO 720
Tom Tom GO 510
Tom Tom ONE
Tom Tom ONE XL
Tom Tom ONE XL-S
Tom Tom ONE 2ND ED
Tom Tom ONE 3RD ED

Tom Tom 3200 GO Series
Tom Tom 3240 GO
Tom Tom Silverguide 4350 NAV
Tom Tom Silverguide 5000 Series
Tom Tom Typhoon 3230 GO

iPAQ rx5710
iPAQ rx5720
iPAQ rx5725
iPAQ rx5730
iPAQ rx5765
iPAQ rx5770
iPAQ rx5775
iPAQ rx5780
iPAQ rx5910
iPAQ rx5915
iPAQ rx5935
iPAQ rx5940
iPAQ rx5965
iPAQ rx5970
iPAQ rx310
iPAQ rx312
iPAQ rx314
iPAQ rx316
iPAQ rx318
iPAQ 910C
iPAQ 912C
iPAQ914C

iPAQ 110 Classic Handheld
iPAQ 210 Enterprise Handheld
iPAQ 310 Travel Companion
iPAQ 510 Voice Messenger
iPAQ 910c Business Messenger
iPAQ rx5900 Travel Companion