Description
USB Camera Cable
Connect reconnect your USB camera without having to pay outrageous manufacturer prices on cables! Our large volume of cables allows us to roll up our sleeves into huge savings for you!
Who currently uses this product?
Many USB camera owners are using this cable, as well as other people who need to USB the same type of USB connection, such as some MP3 players, some USB Card Readers, etc. See the picture below to see if your connector is right for this product.
Compatibility Guaranteed
We're confident in the products we sell. If it doesn't work, or you're just not happy with it, return it for a full refund.
What's included
Click Here to Buy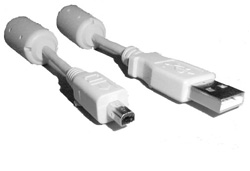 Specifications
PC Compatible

Mac Compatible

Plug and Play and Hot Swappable

Fully bus powered, no external power source needed.

One Year Warranty
USB to Serial, USB to RS232
Compatibility List
Please Note that our camera cables are at a minimum compatible with the following cameras. Our cables are compatible with many more cameras that are not listed, we have provided pictures in the link above to help you device if this is the right cable for you.

Sony -Cybershot
DSC-S30, DSC-S50, DSC-S70, DSC-F505, DSC-F505V

Olympus - Cameras
C700UZ, C2100UZ, C2040Z, C3000Z, C3020, C3030, C3040, C4040Z, D100, D150, D230, D510, E10, E20, E-100RS

Epson - PhotoPC
3000Z, 3100Z

Casio - Cameras
QV-8000SX

hp - photosmart
315

Kodak - Cameras
CX-4230, DC-4800, DX-3215, DX-3500, DX-3600, DX-3700, DX-3900, DX-4330, DX-4800, LS420, MC3

Minolta - DiMAGE
5, 7, 7i, 7Hi