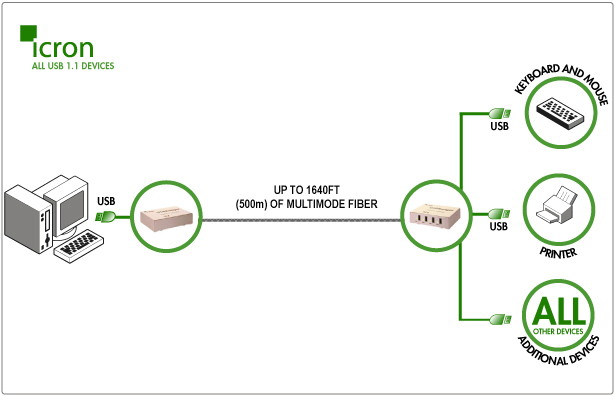 Frequently Asked Questions
What does "LEX" and "REX" stand for? What do they do?
LEX stands for Local EXtender.
REX stands for Remote EXtender.
These two units comprise a standard Icron Extension solution. The LEX unit interfaces to the host PC via a Type-B USB connector. The LEX interfaces to the REX unit over the extension media (Cat-5 UTP, Fiber, etc.) and the REX unit provides connectivity for one or more USB devices at the remote location.
Can I daisy-chain ExtremeUSB systems together for longer reach?
No, it is not possible to daisy chain multiple ExtremeUSB systems together. Only a single LEX and REX pair can be connected to a host PC to ensure proper operation.
Can the Fiber based USB Extender operate through a standard Ethernet hub, switch or router?
No. Icron's USB extenders are not compatible with Ethernet hubs, switches or routers. The link protocol used is proprietary and operates only as a dedicated point-to-point connection.
Which Fiber optic cable can be used with the ?
This item uses multimode duplex, 62.5/125, with MTRJ connectors on both sides for the stendard 1,000ft distance. For a longer distance, you can change to 50/125, which will allow you to run the distance up to 1,650ft.