Description
FireWire Device Cable (Left Angle)
This is a standard FireWire Device Cable. The beauty of this cable is that it has a convenient Left angle on it that gives you maximum flexibility when you're in a tight spot.
Works great in tight spots
This FireWire Left angled device cable has been used for both industrial applications, as well as everyday users to have their computer too close to the wall to plug in their FireWire printer, scanner, or other device.

What's included
FireWire Device Cable
(Left Angle Connector)
Click Here to Buy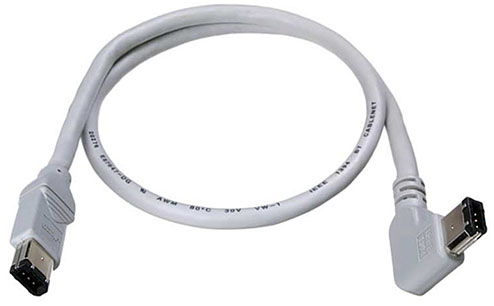 Click on the picture to enlarge
Specifications
FireWire Left Angled 6pin to 6 pin

Lifetime Warranty

PART# RR-66R01-24 (24 inch)

PART# RR-66R01-50 (50 inch)

PART# RR-66R01-78 (78 inch)

PART# RR-66R01-10M (33 FT)
232