Description


Long USB Extension Cable

This long USB 2.0 extension cable, a commercial grade product, allows you to extend both USB and USB 2.0 cables with ease! The standard version will work for most things. If you're using a printer or scanner, we recommend using the HUBE version, it comes with a built-in USB 2.0 Hub, and the power adapter is included.

We've tested it with the following


Dell Laser Printer (1720dn), Apple iPod 30GB, USB to FireWire Adapter, USB 2.0 Thumb Drive (SanDisk Cruzer Micro 2GB), misc keyboards, mice, USB Hubs, a ZyXEL VOIP phone, Bluetooth adapter (generic), etc. The list could go on and on, but you get the picture. If you use it with things that are very high draw, such as scanners and bus powered hard drives, again, we recommend purchasing the HUBE version.

Works great for long camera runs
We've found that most cameras works great with this extension. Photographers who shoot on site and want to be able to move around the object their shooting have very little limitation with this cable because of the longer sizes available 26ft, 40ft, or combine them for 66ft

Works with all speeds
Some extenders using Cat 5 or Fiber can limit the speed of USB device that can be used (low speed 1.5Mbps such as keyboards, full speed such as cameras 12Mbps, and hi-speed such as hard drives and almost all newer items 480Mbps). These long USB 2.0 Extensions works with all of them.

What's included
Long USB 2.0 Extension Cable w/active repeater built-in
*Part numbers ending in E use our special ESD control cable. Perfect for professional photography, and commercial or industrial applications.
Our Combo pack includes a 26ft, and 40ft version with powered hub.
Compliance

RoHS Compliant


REACH Compliant


Certificate of Conformity
Specifications
USB A Male x2* to A Female)
High-Speed USB 2.0 Compatible
Special USB amplifiers attached at end.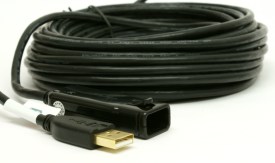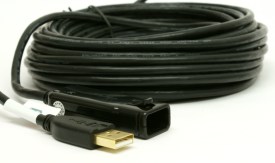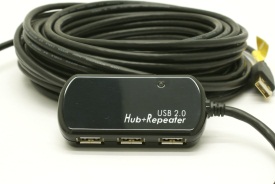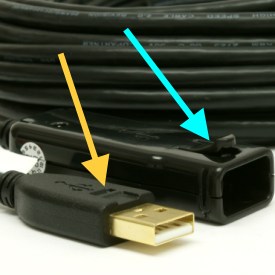 Click on the picture to enlarge

PERFORMANCE GUARANTEE
All of our products come with a full satisfaction guarantee. If you're not 100% satisfied with this product, return it for a full refund.
Available Part Numbers
PART #RR-USB2-EXT-26FT (26 FT)
PART #RR-USB2-EXT-26FTE (26 FT)
PART #RR-USB2-EXT-40FTE (40 FT)
PART #RR-USB2-EXT-40FT-BLK-HUBE (40 FT W/HUB)
PART #RR-USB2-EXT-COMBO (66 FT)